OFFER: Submit 1 packet of FRCR Rapid Reporting (RR)/Long Cases (LC)/Anatomy (AN) and get 1 year free access to the premium package or USD45 remuneration.

Click for details: https://www.medmantra.com/frcr-radiology-articles/submit-frcr-test-packet-for-free-access-or-45usd
The Ultimate Guide to Rapid Reporting for FRCR 2B
---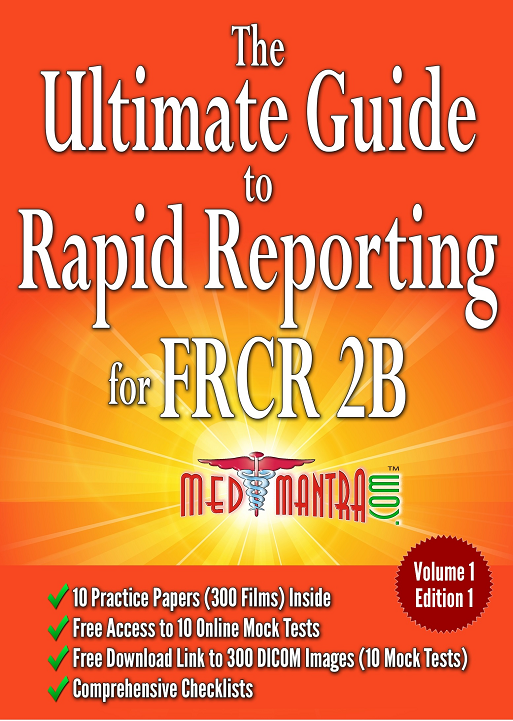 Rapid reporting component of Final FRCR Part B
This free resource is regularly updated. Please visit often to know about the latest developments.

The Examination

The last examination for the Fellowship of Royal College of Radiologists (UK) in Clinical Radiology is the Final FRCR Part B. It has three parts, namely: viva (oral), long cases (reporting session), and rapid reporting. Rapid reporting is considered to be one of its very difficult parts. It (the rapid reporting session) is conducted just after the end of the long cases session.

The Hardware

All phases of Final FRCR Part B examination use the digital medium for presentation. During the rapid reporting session, each candidate is provided with a separate computer workstation which consists of a 21.5 inches Apple Macintosh system (having a CORE i5 processor inside) with a mouse. This system does not have a keyboard and the right click option in the mouse is disabled.

The Software

OsiriX image viewing software is being used for the examination. It gives the option to display DICOM images and the candidates can surf through the images. The system allows to zoom and pan the image and also to change image contrast and brightness. Before getting started, a quick tutorial is presented about the functioning of the computer workstation and the OsiriX software. It is suggested that one should always try to get some hands on experience of using OsiriX DICOM image viewing software configured on an Apple Mac well before the examination. Other hardware options for installing the software include an iPhone and an iPad. It is free to download and install. To download it just search for "osirix dicom viewer", visit the osirix-viewer website from the search results and download the viewer from their "Downloads" section. To quickly get used to using the "OsiriX DICOM viewer", I would recommend viewing videos available in YouTube found after searching for terms "osirix tutorial". You may also view video tutorials available on the osirix-viewer website.


The Official Examination Details

Those preparing for the Final FRCR Part B examination are advised to visit the official website of The Royal College of Radiologists, London to know the latest updates on examination rules and regulations, answer sheet samples, and guidance notes.

The Preparation Strategy

To successfully pass the rapid reporting component of the examination, you need to adopt a strategy for systematic interpretation of radiographs and practice a lot. As in the examination, where you get just more than a minute to interpret a radiograph and write your diagnosis, time management is very important. Proper preparation before the examination is equally important. The rapid reporting component is designed to ensure that a candidate can figure out abnormalities (if any) by quickly analysing a plain film, and that is also a part of routine plain film reporting sessions in a general radiology department.

The Examination Details

In the examination, the majority of cases are as encountered in routine plain film referrals from general practice (GP) and accident and emergency (A&E). A total of 35 minutes are allotted to a rapid reporting session and the candidates are expected to report 30 plain radiographs. Each correct diagnosis carries one mark making a maximum total achievable score of 30 marks for the entire rapid reporting component. The marks criteria for passing the rapid reporting component is 27/30, that is 90% of the total. Facial, abdominal, chest, spinal, limb, and pelvic radiographs are mostly shown. About half of the cases out of 30 are normal. But still, it is expected from the examiner that he/she will select slightly more of the abnormal cases for the examination, and it makes an approximate ratio of 13-15 normal to 15-17 abnormal films. However, this may vary from examination to examination. A single case will consist of a plain radiographic film of a single body region like lumbar spine, skull, knee or chest etc. However, they may show various projections of a body part like anteroposterior (AP) and lateral radiographic projections of the knee (usually on a single film). You will be required to identify whether the film is abnormal or normal by ticking in the appropriate column/box in the answer sheet. And if abnormal, you are required to write the diagnosis or abnormality in short. The abnormality you point out should be obvious. Examiners mostly opt for cases with a single diagnosis / abnormality, and it is expected that a single abnormality/diagnosis is made out from a radiograph. Minor age-related changes and anatomical variants should be considered as "normal". You will be given printed sheets of paper to write answers on.
Registered users of MedMantra.com can download a FREE Printable Rapid Reporting Sample Answer Sheet by clicking the button below. You may print copies of this answer sheet, enter the details while attempting any test packet and file it for future reference.
It is advised to go through the Royal College of Radiologists' website to get an idea of the most current sample answer sheet. The format of the examination can change, and hence it is important to visit the Website of The Royal College of Radiologists before beginning to prepare for the examination. You must take a writing instrument (pencil) and an eraser with you to the examination.

Answer sheet completion

1. The 30 rapid reporting cases will be numbered 01-30. The first page of the answer sheet will have space in rows to write answers to the first ten (01-10) cases while rows 11-30 will be found on the next page.
2. For every case, you are supposed to put a tick (√) in either column B or column C to indicate if the radiograph is normal or abnormal. Films showing anatomical variants like spina bifida occulta, accessory ossicles, cervical ribs, tarsal coalition, and other insignificant variants in the bones, including minor age-related changes like osteophytes must be categorized as normal. However, calcific tendinosis and joint erosions should be categorized as abnormal.
3. You should be careful of the time limit and write (in column D) only a brief description / diagnosis whenever you figure out / diagnose any abnormality. Only one diagnosis or abnormality should be entered. No marks are given if multiple diagnoses (or differential diagnosis) are entered in column D. You may write "#" symbol in place of "Fracture" and use short forms like "MCP", "PP", "5th" etc. if you are short of time. You should mark a tick to indicate if the case is normal or abnormal in the column adjacent to the case number. You can write your finding in the next column after marking the case as abnormal (e.g. right haemarthrosis, left pneumothorax, small bowel obstruction, etc.), or briefly describe the abnormality (e.g. sclerotic metastasis, joint erosion, etc.).
4. It is highly recommended to write the "side" as "Right/Rt/R" or "Left/Lt/L" wherever applicable. Make it a habit to write the side in each and every applicable case. Remember that it has medicolegal significance in the routine practice.

Exam techniques

Technique 1: In a real examination, you get just one minute and ten seconds per film. If you follow the first technique, you must quickly browse through all 30 films on the workstation and spot and note down the grossly abnormal ones. In this way, you can get spare time to carefully look at films / cases where you could not find an abnormality.Start with the first case. See if it is abnormal. If yes, mark it as abnormal and write down your diagnosis / abnormality. If no, go to the next case. If you are unsure about a case, just go to the next case rather than wasting time pondering over it. You can carefully assess it later. Repeat these steps till you finish all 30 cases. In this way, you should be able to rapidly analyse all 30 films in about 10 minutes in the first run. In this time, you should be able to find out about 10 obviously abnormal films. Most of the candidates will be able to detect these abnormal ones. The remaining 20 films will have around 6 or more abnormal films. The remaining abnormal cases might be tricky. They may include difficult-to-detect or edge-of-the-film abnormalities like eroded apical rib, subtle paraspinal collection, shoulder dislocation on a chest radiograph, subtle paediatric distal radial fracture, fibular fracture only visible on the lateral ankle radiograph through the tibia and dens fracture on a skull radiograph.The best way through which you can be sure that a case is normal is to analyse it systematically to include all areas of the film. You can apply a checklist approach to exclude all expected pathologies in the given film.
Technique 2: Analyse each film in an organized manner and implement the checklist method to see each area of the film carefully and exclude all expected pathologies in the given film. Completing the test in 30 minutes should be your goal. In this way, you get spare additional 5 minutes for re-checking. Make three sets of ten cases each. After the completion of each set, you should keep track of the time remaining and ensure if you are doing it in the decided time. It will also aid you in placing the answers on correct locations because a slight mistake may prove costly. We have found that most candidates prefer the second technique, as it is more natural - it has some similarities to routine plain film reporting.

Scoring system

There are three scoring components in Final FRCR Part B examination. The primary one includes two orals (viva) while the other two are rapid reporting and reporting (long cases) sessions. The scores from two orals are combined to give one score for the purposes of results presentation. The combined result of all the components is the main score, and pass / fail depends on that. A fail in even one of the components means you will have to retake the entire examination. In a rapid reporting session, the candidates are expected to report 30 plain films. Each correct diagnosis carries one mark. So a candidate can score a maximum of 30 marks if all the diagnoses are correct. Marks are allocated as shown below (dependent upon the type of image):


| Image type | Candidate response | Mark |
| --- | --- | --- |
|   |   |   |
| Normal Image | Correctly classified | +1 |
|   | Incorrectly classified (appropriate false positive) | +½ |
|   | No answer given | 0 |
|   |   |   |
| Abnormal Image | Correctly classified and correctly identified | +1 |
|   | Correctly classified but incorrectly identified | 0 |
|   | Incorrectly classified (false negative) | 0 |
|   | No answer given | 0 |
Regarding the scoring system, one commonly asked query is: What is an "appropriate false positive" candidate response?
The answer is as follows:
To understand "appropriate false positive" candidate response, please consider the following scenario: A Royal College examiner contributes a few films to a rapid reporting packet. This examiner submits a radiograph as a "Normal" film. However, a candidate while attempting the examination finds a "Subchondral Cyst" in this film which was submitted as a "Normal" one. The candidate marks the film as "Abnormal" and writes the diagnosis of "Subchondral Cyst". When an examiner checks this answer, he/she takes a relook at the film and confirms "Subchondral Cyst" as a finding. In this scenario, the marking examiner may consider the candidate response as "appropriate false positive" and may award ½ mark to the candidate for this response.

Following the marking exercise, each candidate will have a score between 0-30. 
An overall rapid reporting mark is then awarded on the basis of total marks achieved using the scale below:


| | |
| --- | --- |
|  Total marks | Overall mark |
|   |   |
| 00-24 |  4 |
|  24½ |  4½ |
| 25-25½ |  5 |
| 26-26½ |  5½ |
| 27 |  6 |
| 27½-28 | 6½ |
|  28½-29 | 7 |
|  29½ |  7½ |
| 30 |  8 |


Pass Mark

Following the compilation of marks, each candidate will have a score of 4-8 in each component of the examination (two orals, the reporting session and the rapid reporting session). The pass mark in each component is 6, making the overall pass mark 24. In addition to achieving a score of 24 or above, candidates must obtain a mark of 6 or above in a minimum of two of the four components.(Reference: The Royal College of Radiologists. Final FRCR Part B Examination Scoring System. Downloaded from:


Points to Remember

In the rapid reporting component of the examiantion, there is no margin of error. One is certain to fail even with a score of 26/30 in rapid reporting (unless one performs exceptionally well in viva or reporting session).

The two "Mantras" of rapid reporting are: "Checklists" and "Practice"!
It is very important to always follow a comprehensive checklist of all review areas for each body part. It is essential to exclude all expected pathologies in a given radiograph. Comprehensive checklists for various body parts are given at the end of this article.

Attempt as many mock examinations or packets (i.e. sets of 30 plain films with approximately 15-17 abnormal films) as possible. More of such exposure will improve your performance in the actual examination by fine-tuning your review areas and developing a habit of looking at the edge-of-the-film abnormality. Following is an excellent online resource available where you can attempt more than 100 mock rapid reporting packets:
https://www.medmantra.com/elearning/frcr/frcr-2b-rapid-reporting
Never forget to look at the side marker, to avoid missing dextrocardia or situs inversus.

Any pathology in the examination setting has to be definite with no inter-observer conflict (even if subtle). In the examination, you would find most abnormalities easily identifiable. If you are unsure or confused, it is likely a normal film. If you are finding it difficult to detect an abnormality, then the film is likely normal. During the examination, just adopt your routine practice of reporting plain films. It's a different situation in examination due to non-availability of clinical information. This will increase your level of difficulty and may lead to over calling normal films, which you need to avoid. Imagining abnormalities also must be avoided. Avoid wasting time by not pondering too long over a difficult-to-diagnose film. You should have sufficient time remaining to re-check all normal films.

If there are multiple views in a case, check them with attention. Such cases are mostly abnormal. Most of the times, abnormality is evident only on one view. If you don't have enough time, just mark these type of cases as abnormal.

If you are short of time, then don't waste time counting the exact rib number or toe; just mention fracture rib or metatarsal. If you are short of time, it is appropriate to write "#" instead of "Fracture". Also, it is appropriate to use short forms if you are short of time.

There is no negative marking in rapid reporting, so you must answer all the questions. During the last few minutes of the examination, if you are short of time, just mark all remaining cases as normal. You have nothing to lose in this scenario.

Please note that in the actual examination, normal and abnormal cases can be clumped together. For example, if you come across 4 or 5 normal films in a row, don't be tempted to overcall pathology. Develop a habit of trusting your instincts.

If you are short of time or are confused about the specific name of a fracture or a radiological sign, then it is appropriate to write a brief description of the abnormality instead of writing a wrong name.

Most abnormalities in the examination will be relatively easy to diagnose. Most of the films will have a single significant abnormality. Even if there are more than one, it will be part of a single diagnosis (e.g. tibial plateau fracture associated with knee lipohaemarthrosis). If not, then write the most clinically significant one (e.g.: pneumoperitoneum over gall bladder calculi). In rare cases where you find two pathologies like pneumothorax and a lung mass, or osteoporosis and a vertebral wedge compression fracture, or pneumomediastinum with a rib fracture and you are confused, then it is appropriate to write all important pathologies.

Systematic and consistent approach is a must to be successful in rapid reporting component of the examination. Apply a uniform technique when attempting mock tests so you can judge your reporting style and know if you are over calling or under calling the abnormality.

In case of a fracture extending into an adjoining joint, mentioning intra-articular extension is important to secure a full mark. In skeletal radiographs, always look for soft tissue swelling which may point to an underlying bone fracture. Similarly, foreign bodies and soft-tissue gas may also serve as pointers to significant adjoining abnormality. Always check and trace the outline of each bone in a radiograph with attention. Erosions / foreign body / lines / tubes should always be specifically looked for.
Prosthetic valve, laminectomy, calcified hilar lymph nodes, fused vertebrae, splenomegaly, soft tissue calcification except for vascular calcification, severe osteoarthritis, basal ganglia calcification in child etc. are ABNORMAL.
Basal ganglia calcification in adult, calcified lymph nodes in abdomen etc. are NORMAL.

In knee, shoulder and skull x-ray films, always look for fat-fluid level.


Rapid Reporting Comprehensive Checklists
Registered users of MedMantra.com can download a FREE Printable Rapid Reporting Comprehensive Checklists PDF file for ready reference and personal use. You may print the checklists on one sheet of paper (front and back) and always keep with you while practicing rapid reporting packets.
With regard to the rapid reporting spotters, apart from the usual stuff you look at, specifically look for the following abnormalities. If you don't see any obvious pathology in x-ray films, take time, think and look specifically for these conditions:
CHEST RADIOGRAPH:

Situs/dextrocardia
Lines/tubes
Mastectomy (don't ever forget)
Clavicles: Absent/fracture/destruction
Scapula/Humerus: Destructive lesion, fracture/dislocation of glenohumeral and acromioclavicular joints/calcific tendinitis, absent scapula
Abnormal air lucency: Pneumothorax, pneumo-mediastinum, surgical emphysema, pneumoperitoneum, pneumopericardium or any other abnormal air lucency (In erect film - look at apices, in supine film - deep costophrenic sulcus sign and paracardiac broad air lucency)
Trachea/paratracheal stripe: Look for para-tracheal lymphadenopathy
Hila, Mediastinum & Heart: trace the contour and look for hilar density/masses/lymphadenopathy, mediastinal mass/adenopathy, abnormal cardiac contour and thyroid mass
Lungs: Upper, mid and lower lung zone consolidation, nodules and masses, lobar collapse, fissures and the Silhouette sign
Hidden areas: Apices, retrocardiac region (mass/ calcification/lucency), and hilar and infra-diaphragmatic regions
Pleura: Effusion, calcification/plaques, pleural metastases, mesothelioma and masses
Spine: Midthoracic dislocation, paraspinal soft tissue mass, vertebral pathologies
Diaphragm: Free air below the diaphragmatic domes and a large hiatus hernia
Ribs: Look for rib notching (coarctation of aorta), recent rib fractures, missing ribs and rib lesions/destruction, right sided aortic arch, Looser's zones – particularly in scapula, avascular necrosis of shoulder
ABDOMINAL RADIOGRAPH:

Abnormal air lucency:
  - Peritoneal, retroperitoneal and intramural air
  - Air under diaphragmatic domes
  - Rigler's sign, football sign, falciform ligament sign, and sharply outlined kidneys, psoas muscles and iliac fossae with air lucencies.
  - Right upper quadrant air lucencies: Air in the portal or biliary system suggesting bowel ischemia or gallstone ileus respectively
Bowel obstruction: small or large bowel dilatation, abnormal air-fluid levels, volvulus, hernial orifices, sutures, thickening of bowel wall
Colitis: Thumbprinting
Calculi: Gallstones, urinary calculi, chronic calcific pancreatitis, appendicolith, peritoneal calcifications, dermoid, nephrocalcinosis
Hidden areas: Lung bases (nodules/consolidation/collapse), calcified aneurysm of aorta or iliac artery
Bones: lower rib pathologies, vertebral pathologies (missing pedicle/collapse/spondylolysis/spondylolisthesis), sacrum and pelvis (fractures, metastases, Paget's disease, ankylosing spondylitis/sacroilitis)
Organomegaly:  Liver, spleen, kidneys and psoas muscles
Iatrogenic: Foreign body and any post-surgical changes (stoma, clips, lines)
Lines/tubes
SHOULDER RADIOGRAPH:

Joint dislocation: Glenohumeral dislocation (anterior, posterior and inferior) and acromioclavicular subluxation or dislocation
Greater tuberosity: Fracture
Coracoclavicular disruption: Coracoclavicular distance measures more than 1.3 cm
Clavicles: Fracture, absence, erosions, metastases
Calcifications: Calcific tendonosis, bursal and joint calcifications
Frequently ignored: Pneumothorax, rib fractures, Pancoast tumor, lung mass/pathology
ELBOW RADIOGRAPH:

Positive posterior fat pad sign: This suggests presence of effusion. Associated fracture is likely
Fractures: Supra-condylar, lateral epicondyle, radial head and neck, olecranon and coronoid processes of ulna, avulsion fracture of epicondyle
Lines in lateral view: Anterior humeral and radio-capitellar lines
Dislocation: Radial head
CRITOL/CRITOE: Ossification in paediatric elbow radiographs (capitellum, radial head, internal epicondyle, trochlea, olecranon, external/lateral epicondyle)
Osteochondritis disssecans
WRIST RADIOGRAPH:

Fractures: Distal radius, ulnar styloid, torus/greenstick in paediatric radiographs, scaphoid, triquetral (in lateral view), hamate, base of metacarpals, boxer's, impacted Colle's, gamekeeper's thumb, phalanges
Dislocation/subluxation: Radio-ulnar, bases of fourth and fifth metacarpals (congruity with hamate is lost), lunate and perilunate, scapho-lunate dissociation (Terry-Thomas/tooth peg/Madonna sign in adults)
Bone erosions, erosive arthropathy, acroosteolysis, chondrocalcinosis, fused carpal bones, Madelung/reverse madelung deformity
HAND RADIOGRAPH:

Fractures: Distal radius, torus/greenstick in paediatric radiographs, scaphoid, triquetral (in lateral view), hamate, subtle metacarpal (must trace cortical outline of all bones)
Dislocation/subluxation: Radio-ulnar, bases of fourth and fifth metacarpals (congruity with hamate is lost), lunate and perilunate, interphalangeal joint, scapho-lunate dissociation (Terry-Thomas/tooth peg/Madonna sign in adults)
Bone erosions, enchondroma, Brown tumor, metastasis (in lung carcinoma), distal phalangeal pathology/lesion
PELVIC RADIOGRAPH:

Fractures: Pubic rami, femoral neck, acetabulum, iliac bones, anterior superior iliac spine and anterior inferior iliac spine (ASIS and AIIS) avulsion, pelvic and obturator rings (always trace cortical outline), sacrum
Osteomalacia: Looser's zones/pseudofractures involving pubic rami and proximal femora medially
Hip joints: Dislocation, developmental dysplasia (DDH), Perthe's disease, slipped capital femoral epiphysis (SCFE), avascular necrosis (AVN) of femoral head in adults, septic arthritis.
Sacro-iliac joints: widening/fusion/sacroilitis
Frequently ignored: Dermoid in pelvis, pubic diastasis, vertebral endplates
KNEE RADIOGRAPH:

Osteochondritis dissecans: Femoral condyles and patella
Fractures: Femoral condyles, patella, tibial spine, tibial plateau, fibula, and Segond (avulsion of lateral tibial condyle frequently associated with anterior cruciate ligament tear)
Lipohaemarthrosis, soft tissue mass
Patellar dislocation or subluxation
Chondrocalcinosis
Widened intercondylar notch
ANKLE RADIOGRAPH:

Osteochondritis dissecans: Talar dome
Fractures: Toddler's, triplane, medial and lateral malleoli, Salter-Harris types 2 and 3, distal tibia and fibula, talar dome, talar neck, calcaneus (Bohler's angle less than 20-degrees), metatarsal (especially base of fifth metatarsal), stress
Dislocation: Subtalar (especially talonavicular)
Brodie's abscess, metastases, osteonecrosis of navicular (Kohler's disease) and hypertrophic pulmonary osteoarthropathy
Joint widening
Avascular necrosis (AVN) of metatarsal head
FOOT RADIOGRAPH:

Lisfranc fracture/dislocation
Fracture of base of the fifth metatarsal bone
Stress fractures of second and third metatarsal bones (look for periosteal reaction)
Freiberg's disease (avascular necrosis of metatarsal - usually second, but can occur in any)
Trace cortical outline of each bone (especially important in detecting a subtle phalanx fracture)
Cellulitis, bone erosions, joint widening and metastases
Osteochondritis dissecans of talar dome
Fractures: Toddler's, triplane, medial and lateral malleoli, Salter-Harris types 2 and 3, distal tibia and fibula, talar dome, talar neck, calcaneus (Bohler's angle less than 20-degrees)
Subtalar dislocation (especially talonavicular)
Brodie's abscess, osteonecrosis of navicular (Kohler's disease) and hypertrophic pulmonary osteoarthropathy
SKULL RADIOGRAPH:

Air-fluid level in the sphenoid and other sinuses
Fractures and dislocations: Sharp lines, depressed/ping-pong fracture, skull base, zygomatic, orbital wall, odontoid fracture, atlanto-axial alignment, temporomandibular joint (TMJ) dislocation
Pneumocranium, air within the orbits, enlarged sella, midline shift (displacement of pineal calcification), mandibular pathologies/fracture, foreign body
Lesions: Metastases, multiple myeloma, Langerhans cell histiocystosis (LCH), Paget's disease, pepperpot skull in hyperparathyroidism, acromegaly, aneurysm calcification
FACIAL RADIOGRAPH:

Air-fluid level in the sinuses
Fractures and dislocations:
  - Look for a fracture adjacent to a soft tissue swelling
  - Trace the three McGrigor-Campbell lines (upper, miidle and lower), elephant's trunks (zygomatic arches) and nasal bones
  - Tripod fracture
  - Orbital blow out fracture (air within the orbit, disruption of inferior and lateral orbital walls, black eyebrow sign, tear drop sign, air-fluid level in the maxillary sinus)
  - Temporomandibular joint (TMJ) dislocation
Mandibular and maxillary pathologies/fracture, foreign body
Lesions: Metastases, multiple myeloma
CERVICAL SPINE RADIOGRAPH:

Fractures/subluxation/dislocation: Fractures in all 3 columns of each vertebra, atlanto-axial subluxation/dislocation, facet dislocation (unilateral/bilateral)
Lesions in all 3 columns of each vertebra, vertebral erosion, pre and paravertebral soft tissue widening
Extra-spinal findings: Sphenoid fluid level, soft tissue opacity in nasopharynx, lung lesion (mass/Pancoast tumour/pneumothorax), aortic aneurysm, skull fractures, oesophageal foreign body (fish/chicken bone, denture), lesions/fractures of clavicles/upper ribs
THORACIC SPINE RADIOGRAPH:

Fractures: Vertebral wedging, traumatic/osteoporotic/malignant fractures, trace vertebral cortices
Definite dense/lytic bone, absent pedicle, metastases/other vertebral lesions, spondylolisthesis, osteomyelitis, sickle cell disease, anterior/posterior scalloping, narrow/widened interpedicular distance
Pre and paravertebral soft tissue widening/masses, foreign body
Extra-spinal findings: Lung pathologies, aortic aneurysm, hernia, and any other thoracic/abdominal pathology, rib fractures/lesions
LUMBAR SPINE RADIOGRAPH:

Fractures: Vertebral wedging, traumatic/osteoporotic/malignant fractures, trace vertebral cortices
Definite dense/lytic bone, absent pedicle, metastases/other vertebral lesions, spondylolysis, spondylolisthesis, osteomyelitis, sickle cell disease, anterior/posterior scalloping, narrow/widened interpedicular distance, foreign body
Pre and paravertebral soft tissue widening/masses
Sacral insufficiency, sacral mass lesions, sacro-iliac joint pathology
Extra-spinal findings: Lung base pathologies, abdominal aortic/iliac artery aneurysm, hernia, dermoid, and any other abdominal/pelvic pathology, rib fractures/lesions
Please write your review, suggestions for improvement, additional information or query in the comments box below: